Girls Gone Wild in Asheville, NC
25.04.2014 - 27.04.2014
Sometimes, you want to travel to exotic locales like Santorini and sip Vinsanto as the sun sets over the Aegean Sea. Sometimes you want to travel to rugged Montana and hike over mountains and glaciers while munching on a bag of granola and watching for an errant moose. Sometimes you want to do nothing more than spend sun drenched days beside the turquoise waters of the Caribbean with a Pina Colada in hand.
Other days, you just want sparkly shoes, 6 jumbo sized bags of potato chips, 4 girlfriends, and a lot of cake.
The guys planned a spring fishing trip to the Bahamas, so the girls decided, "What better to do than go away for a weekend where we can spend all their money on shoes?"
Girls trips are the best. There are so many reasons why.
1. You can be a slob.
You don't have to shower or wear make-up. You can leave your hair in a tangled bun and spend the entire morning in that pair of too-big sweat pants with the holes in the butt and the worn out elastic waist that your husband hates. You don't have to shave your legs and no one will care.
2. There is no judgment.
Ready for a second bottle of wine? Who cares if it's only 10:00 a.m. Go for it. Want to sit in the middle of the living room and eat an entire cake in your bathrobe or drink champagne out of the bottle while crying in the bathtub? Go ahead. We've all done it. Want to watch Keeping Up With the Kardashians? Secretly EVERYONE wants to see it.
3. You can relax.
I typically get about 10 minutes to myself on a Saturday morning before my husband comes blazing in like the Tasmanian Devil demanding that I fix breakfast, wash his favorite shirt, run 4 miles with him, and help him wash the car simultaneously. And I'm supposed to look sexy and awesome while I do it. A Saturday morning with the girls means 4 hours in your pajamas while doing nothing more strenuous than eating a doughnut while reading trashy gossip magazines. Not to mention the rest of the day will likely include piles of comfort food, some sort of spa treatment, and a champagne lunch somewhere with chandeliers.
4. Talk, talk, talk.
Has your husband every shushed you while you were talking because you are interrupting the T.V.? Yeah. Don't act like you don't know what I'm talking about. The best thing about a weekend with the girls is that we all talk. All the time. Forever. And no one minds. We actually get uncomfortable with silence.
5. Eat, drink, and be merry.
It's no secret that I can eat a lot for a small person. In my "real life," I try to rein it in and not give in to my inner piglet. Being married to Matt-the-Superhuman-RoboMan doesn't help. He has -3% body fat. I remember attending a birthday party for a friend's husband a few years ago and, as I picked up the fork to start on my 3rd piece of cake, I looked across the table and saw the look of horror on Matt's face. "I'm sort of grossed out by you right now," he said. Not with my girlfriends. I can order triple carbs, dessert, 6 glasses of wine, and if I start laughing while I'm chewing and accidentally spit a glob of gooey tortilla chip onto the table, everyone thinks its funny.
5. Girl Just Wanna Have Fun.
Cyndi Lauper was right. We all love our husbands and our lives, but sometimes, you just need "girl fun." We all know there is a different kind of fun to be had when it's just us girls. It's like 8th grade never ended and we are sitting on the bed eating a bowl of M&Ms and wondering who will wake up with a zit. Only with your girlfriends can you laugh so hard that you wet your pants on a downtown sidewalk (sadly, this is a true story).
Hello Girls Weekend in Asheville, NC!
We all showed up with 4 suitcases for 2 days, because, when packing for a girls weekend away, well…..you just never know what you might need. Little black dress? Sure, throw it in there. Flats? Yes. Heels? Yes. Lots of sweatpants to wear in the morning when you are bloated and hung over? Yes, yes. And you may as well throw that old prom dress and the sequined boa in there. You just never know.
We arrived in Asheville on a Friday afternoon in late April. The weather was absurdly perfect and we found ourselves in what might literally be the most adorable neighborhood in the universe.
We had rented a house in Historic Montford, just a mile or so from downtown Asheville where we planned to spend 2 days eating, drinking, shopping, eating, walking, eating, shopping, drinking, and eating.
We had chosen the house because of its proximity to downtown, but were overjoyed when we saw the insanely cute neighborhood in which it was located. I felt like, at any moment, a unicorn was going to pop out of the bushes or a happy gnome with a bag of gold was going to hop across the street. Seriously.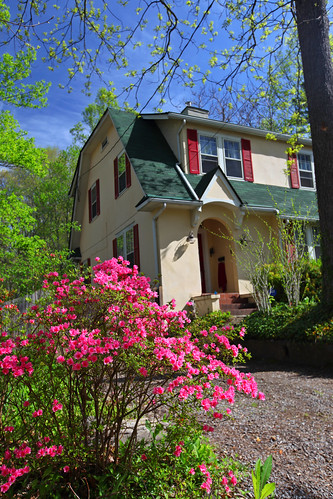 Feeling like we had just wandered into some sort of Hansel and Gretel dimension, we found our own adorable cottage and jumped up and down like 13 year old girls exclaiming over the ivy strewn patio, the outdoor firepit, the cozy front porch, and the warm interior.
I had made late dinner reservations for us at the Admiral, but, because we like to drink before going out drinking, we popped open a couple of bottles of wine.
I had a feeling that my "check liver" light might come on before the weekend was over.
We called the Blue Bird Taxi, because we already knew that NOBODY would be driving that night. Within minutes, a little Prius driven by Calvin the Best Taxi Driver Of All Time showed up.
When Calvin took a shortcut through a mall parking lot and headed for an unlit street, the girls were suspicious that he was taking us to kill us. When he pulled up to a random looking cinder block building between the BJ Food Mart and an empty lot with a rusty barbed wire fence, they were sure.
No. That was just The Admiral.
The Admiral doesn't advertise. They never have. You have to find it. And when you do, you feel like you've been let in on a secret. The Admiral is unassuming. From the outside, you'd never guess it is one of the best dining experiences in the city.
The interior is dark, with a low ceiling, lots of mismatched vintage furniture and touches of warm lighting. There's an old Budweiser sign with neon strategically blacked out so it appears to spell "Dive." Imagine if Waffle House turned down the lights, played some vinyl records, and decorated with your Uncle Fred's garage sale leftovers. It's hip in tawdry sort of way.
However, you don't go to the Admiral for the decor. You go for the food.
And the food is divine.
It was at 9:30 p.m. on Friday, April 25th that the Asheville Food Insanity began. I am not really sure what got into us. Maybe it was stress relief from several weeks of issues we had all been dealing with. Maybe it was the lack of disapproving stares from our husbands as we polished off piles of chocolates and bags of chips. Maybe it was just the joy of being in a beautiful city on a beautiful weekend with beautiful friends.
We were like sharks in a feeding frenzy. Except that instead of blood, we were incited by the smell of vanilla poppyseed cake and bread with real butter.
We started off with drinks. I also ordered up a warm and crusty baguette with olive oil and house cultured butter. The bread was crispy on the outside, soft on the inside, and the butter was obscenely salty and delicious.
I followed that with a bowl of PEI mussels. I know what you are thinking. PEI mussels in North Carolina? Crazy.
Let me tell you. I have slurped Prince Edward Island mussels on Prince Edward Island, so fresh they were still quivering with salt water. The mussels at the Admiral were some of the tastiest I have ever had. The mussels were drowning in San Marzano tomato broth with just a dash of PBR (hey, it is the South, after all) and chunks of smoky bacon and topped with savory chimichurri. The dish was truly inspirational. After devouring the mussels, I mopped up the amazing broth with the baguette and salty butter.
Yes. I ate an entire baguette in addition to the baguette that was on the mussels. Don't judge.
I followed that (you didn't think I was done, did you?) with the pasta carbonara. Thick house made fettuccini was topped with delicate chunks of sweet lobster, bread crumbs, pecorino cheese, and egg foam.
I sampled the others' dishes: creamy avocado soup; angus flat iron steak with homemade tater tots, mustard greens, pimento cheese, topped with a fried egg and an amazing curry ketchup; shrimp ceviche tostadas; and pork belly with burnt miso aioli and finely shredded cucumbers and carrots with daikon, kimchi bulgogi, and cilantro.
Because I was eating like I just escaped from a Turkish prison, I had to get dessert. Of course I did. I had the "Chocolate Milk & Cereal." A glass of white and dark chocolate ganache sat beside the chocolate gelato topped with house made chocolate cereal puffs.
Having been to the Admiral before, I knew what came next. The others didn't. I watched their faces when, at 10:00 p.m., the wait staff pushed all the tables aside to make room for the dance party. A DJ started spinning retro tunes as every variety of hipster started pouring into the place and swing dancing where the guy next to us had just been eating his duck leg.
You just can't beat the Admiral for amazing food and awesome weirdness.
We danced badly to everything from Ella Fitzgerald to the Beasty Boys before calling Calvin (now that we were convinced he wasn't trying to kill us) and calling it a night.
Oh what a night.
Saturday morning was as beautiful as Friday. The weather was warm and the sky was clear and blue. We felt amazing, despite the amount of salt, fat, carbohydrates, sugar and alcohol we had consumed the night before.
It was time for shopping!
Or eating.
Whichever came first.
We headed downtown to peruse the funky, cool shops that are so abundant in Asheville. We made it about 10 feet from the car when….
FRENCH BROAD CHOCOLATE LOUNGE!!!!!
Apparently, eating would be first.
For four women with calories to consume and money to burn, the French Broad Chocolate Lounge was an oasis of happiness filled with sunshine, hand-crafted artisan chocolates, and most importantly: CAKE.
I couldn't decide. A thick brownie with coconut? A sipping cup of hot liquid chocolate truffle? A fat slice of maple cake with smoked salt? Dark chocolate honey salted caramels?
French Broad doesn't make chocolates. They make magic. And happiness. Magical chocolate happiness.
I settled on the vanilla cake with poppyseed buttercream, lemon curd filling, and a drizzle of lemon sauce. It was indeed a little slice of sunshine.
We spent the next couple of hours wandering the streets of Asheville with its eclectic shops, historic buildings, and sidewalk buskers with cute puppies.
We found ourselves at the Grove Arcade, home to one of my favorite places in the entire world: The Battery Park Book Exchange.
Why?
Because I love old books.
And because I love champagne.
Battery Park has both.
DE-lightful.
We polished off a bottle of champagne and realized we were about to be late for our lunch reservation at Curate.
Dear Lord! Missing a meal was out of the question. Run, ladies, RUN!
Curate, a tapas bar, is regularly rated as the #1 restaurant in Asheville.
(by people who have obviously never been to the Admiral where you can eat the most amazing meal of your life while watching a guy with a handlebar mustache and a banana tattoo dancing to a Buck Owens song while munching on a ramp waffle downed with a PBR in a can)
The restaurant is cozy and warm and everything on the extensive menu is carefully and artistically prepared. "Curate" means "cure yourself," and we were suffering from needmorefooditis.
Let the healing begin!
As she prepared our red wine sangria tableside, the waitress suggested we order 3 dishes each. We took her at her word and ordered 12, yes TWELVE, dishes of food. Everyone chose 3, but the plan was to share them all.
First up were the artichoke chips with yogurt dipping sauce, so delicate they melted in your mouth.
Next we had spicy chorizo wrapped in potato chips. In the South, this is called a "pig in a blanket," although this was much better than the Vienna sausage and crescent roll version that we used to make in my trailer park youth.
That was followed by grilled pequillo peppers stuffed with Spanish goat cheese.
After that came the kumato tomato salad with preserved Spanish bonito tuna and black olives drizzled with olive oil and sherry vinegar.
But wait! There's more! We had warm octopus flavored with sea salt, olive oil, and paprika with a puree of Yukon gold potatoes. Okay, maybe not my favorite dish (I am more of a pig-in-a-blanket kind of girl), but we were here to try new things, so…when in Rome….eat the octopus.
We felt the need for something green to quiet the voice of our mothers in our heads that were trying to tell us to eat something with vitamins, so we ordered a spring salad with baby artichokes, radishes, sunchoke chips, baby greens, yogurt, and a lemon vinaigrette.
We stuffed mom back in the closet and moved on to the meatballs with cured iberico de bellota ham in a robust tomato sauce.
Then, it was on to the grilled iberico pork skirt steak with fresh rosemary and thyme.
This was followed by lamb skewers marinated in Moorish spices served with house made pickles.
The patatas bravas were to die for. Leave it to the pig-in-the-blanket girl to also love the dish that looked like home fries slathered in mustard and ketchup. In reality, the crispy potato chunks are topped with a spicy tomato brava sauce and a savory aioli.
Next up was sautéed spinach with raisins, apples, and toasted pine nuts. (You're welcome, Mom.)
For our twelfth and final dish, we had a sandwich made from catalan sausage, peppers, and caramelized onions on a crusty baguette.
Yeah.
We ate all of that.
After lunch, we had a pretty good sangria buzz going on. What better to do with a sangria buzz than go shoe shopping?
If you recall, the impetus for this trip had been the fact that we had been unceremoniously dumped by our men who were no doubt partying it up with frozen drinks on the sunny beaches of Abaco while pretending to fish.
That's why I decided Matt would buy me an expensive pair of shoes.
The sangria might have also had something to do with it.
We finished our shopping day strong and headed back to the house for some downtime (and wine) to prepare ourselves for dinner.
Yes. We planned to eat dinner.
After all of that.
But first – we headed to the rooftop Sky Bar to watch the sunset in style. We called Calvin the Taxi Driver and he showed up promptly in his shiny little Prius.
I had read about Sky Bar and was dying to check it out. Hidden at the top of the historic Flatiron Building, it is all marble floors and dim lighting with a classy 1920's vibe. It is magical. Hidden. The kind of place you find by accident and where you can ride a noisy old elevator to a cool fire escape where hand crafted cocktails and amazing sunset views are waiting for you.
I am not sure what made me think we could show up 10 minutes before sunset and simply waltz out onto one of the most awesome, and space limited, places in Asheville.
When we arrived, we did not glide across the marble floors. We were not ushered onto the ancient elevator. We were not whisked away to a rooftop paradise.
No. We were shown into a little bar on the lobby floor of the building where there was a T.V. showing the amazing sunset that smart people, who actually showed up at a reasonable hour rather than dashing in at the 11th hour because they spent too much time putting on their mascara, were watching above us.
I consoled myself by trying the house infused pineapple-strawberry tequila and looking at my new sparkly shoes.
However, I had barely had time to say, "Dios Mio!" before the elevator buzzed and we were motioned forward.
The elevator didn't look like it had changed much in the last 90 years. The cage was pulled closed and we were on our way up.
And we hadn't missed the sunset. The view was magnificent.
From the on-site infused liquors to the hand crafted specialty cocktails, the Sky Bar had a drink menu that was as exceptional as the sunset views over downtown Asheville.
We stayed until the fiery sunset had cooled to a soft sky over the twinkling lights of downtown.
It was time to eat again!
We walked to Limones, a Mexican Fusion restaurant in downtown Asheville.
The dark wood floor, soft lights, and happy faces let us know we were in for a great meal.
When I saw the Caipirinha on the drink menu, I had to try it. After spending 10 days in Brazil, I have had my fair share of Caipirinhas and have yet to find one stateside that is made correctly. A proper caipirinha has 3 ingredients: Cachaca, limes, sugar. For some unfathomable reason, American bartenders insist on adding soda or some other watery, sugary substance to the drink.
Limones got it right. It was just like being back on the sandy beaches of Ilha Grande with a bowl of salty olives and a stray dog running around my feet.
The four of us shared 3 appetizers, because we simply couldn't settle on anything less. We started things off with the ceviche sampler. The included the ceviche del Mercado, which was made with the fish of the day marinated in lime juice and served with guacamole & red onions. There was also the ceviche verde which had papaya, avocado, and lemon. Finally, there was the spicy ceviche with jicama, cucumbers, avocado, and cilantro. All were accompanied by warm tortilla chips.
We followed the ceviche with the slow braised short rib nachos with smoked chile crema, guacamole, and salsa verde and the lobster nachos with crema, guacamole and serrano.
For dinner, I dove into the chorizo burger. The beef was mixed with spicy ground chorizo and the burger was topped with poblano peppers, cilantro aioli, caramelized onions, and cheddar cheese.
Because we couldn't end a meal without consuming at least 3 dishes each, we ordered 2 desserts to share: the tres leches cake with peaches, pecans, and mango chile sauce and crispy hot cinnamon brown sugar churros with caramel sauce and Mexican hot chocolate.
We were the last ones in the restaurant because we literally stayed until there was no food left in the kitchen. I'm sure when we left, the kitchen staff applauded.
I then went and lay prostrate on the sidewalk praying for Calvin to come pick us up before my stomach started to hemorrhage.
Calvin! Our hero!
Sunday morning meant one thing: Early Girl Eatery.
I'm not sure why we were still hungry. I'm not sure we WERE still hungry, or if, at this point, we were simply being driven by some primeval instinct to just try to eat anything that didn't run away first.
There is always a wait at Early Girl, but there is a reason. It is just that good. We stood out on the sidewalk and literally drooled over the menu, like we hadn't eaten in weeks.
It was pathetic.
This was my breakfast. Mine. Alone:
That's a giant buttermilk biscuit topped with Benton's bacon smoky gravy, a fried green tomato napoleon atop buttery grits, and a porky bowl (aptly named) which consisted of home fries, BBQ pork, and scrambled eggs smothered in gravy and farmstead cheese. I'm pretty sure I also ate some of Valerie's banana bread.
I'd like to say those dishes were split, but they weren't. They were just mine. And I ate them.
I am so ashamed.
Okay, I'm not really. I'm just saying that so you won't judge me.
What a weekend! We laughed until we cried. We shopped until we ran out of money.
And we ate until Asheville ran out of food.
Next up: What happens when 6 people spend 7 days on a 46 foot boat in the Exumas? Madness. Mayhem. And a helluva lot of fun. Find out who cries, who gets diarrhea, and who ends up with the black eye this time. Coming soon to a blog near you!
Posted by vicki_h 15:22 Archived in USA Tagged north_carolina asheville girls_weekend girls_getaway Comments (0)